High Rise Window Cleaners in San Diego, CA
At Horizon Window Cleaning, we are your high rise window cleaning experts in the San Diego area! Our team members are trained, licensed, and certified to use the necessary building maintenance equipment and different lifts to achieve quality results. All stakeholders are taken into account including managers, building engineers, building tenants and the general public. Safety and quality are at the core of our culture and all team members execute the project management plan precisely to deliver it. We approach every high rise building with a plan so that we can ensure that it is done is the safest and most efficient manner. The safety of our team and providing our customers with the best jobs possible are our main priorities. Horizon Professional Window Cleaning is the premier service provider for safe and efficient high rise exterior building maintenance. Contact our team today for a free quote high rise window cleaning in the San Diego area!
Lic. #1037677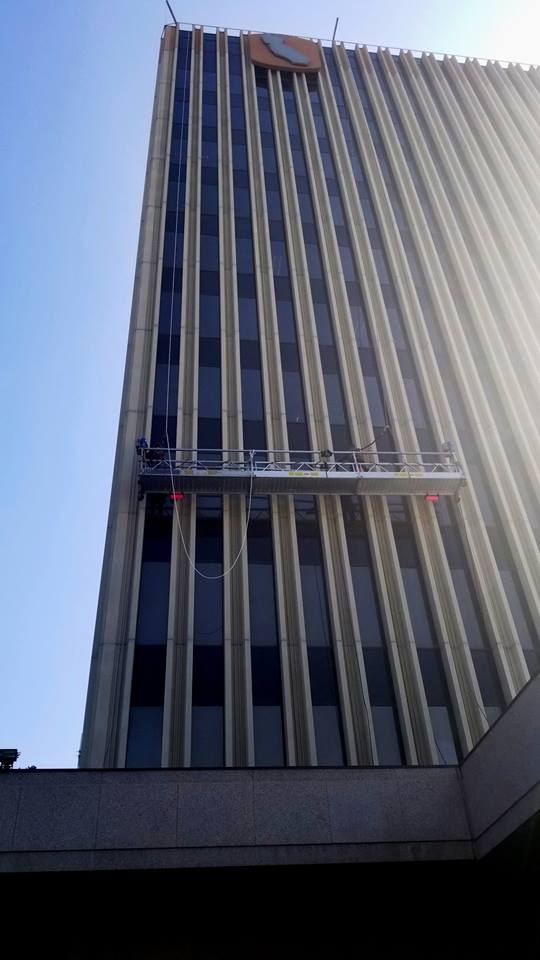 High Rise Window Cleaning Requirements
Horizon carries all necessary insurances, including $5 million General Liability with no limit on height, Worker's Compensation and Commercial Auto.  It is important to note that a building's permanently installed building maintenance equipment must be inspected and certified by a third party licensed SIT contractor every 12 months and load tested every 10 years with written proof.  Elevated platforms such as suspended scaffolding or single man baskets shall also be inspected and certified.  We can also rent equipment from a reputable equipment provider if needed.
Spotless Glass
Enhanced natural lighting promotes happiness of building tenants.  This could mean a better quality of living, or more productivity in the workplace.  Horizon Professional Window Cleaning has made a commitment to quality.  Our project management plan details all necessary tools and techniques to consistently provide excellent deliverables. Our cleaning approach ensures that your building's window glass will be left dirt and dust free for a longer period of time.

Professional Services for Windows, Gutters & Solar Panels
Feedback From Our Customers
"John and his team are amazing. He is great at working with our schedule to clean the studio in between classes (they do mirrors too!), is very professional, on time and do a terrific job. I highly recommend Horizon for any needs….you won't be disappointed."

---
"Just had our windows cleaned by Horizon. This is the third time we have used them. Great company! Arrived promptly with 3-man crew, fast and thorough, inside and outside, wiped down all the window sills and slider tracks. It is a pleasure to work with professionals like these guys."

---
"It is amazing how much light comes in after the windows have been done!!!John has not only helped me out with my jobs but has also done work at my house personally. He is very efficient, clean and timely."

---
"John was great, a total perfectionist. My windows look amazing. Way better than I could do! He was prompt, nice and also really reasonably priced. I would definitely recommend this company to my friends."

---